MobilE guide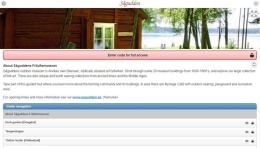 Såguddens outdoor museum has got a mobile guide where you can be guided around the area and hear telling you about some 20 buildings. Here you will learn more about history.
The mobile guide also follows the train Färdinands tour over Sågudden and by Arvika.
Mobile Guide can be purchased at the tourist office, Såguddens Museum and Kafé Nystuga,Sågudden.
Note that you will not be guided inside the buildings.
To log in (when you bought the ticket):
Click the link webapp.onspotstory.com/sagudden

Select your language

Select Guide

Choose Enter Code for full access.
Fill in your code, click on the Get Access.

Now you can choose which items you want to hear more about.